New Home
In November 2015 we moved into our new facility, located not far from our former location.
Our new address is
CPS Canadian Primoflex Systems Inc.
1220 Balmoral Road
Cambridge, ON, N1T 1A5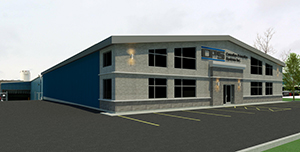 March 1, 2016
Welcome 2014
After an exciting and eventful 2013, we look forward to 2014 and wish you and yours a happy New Year.
January 1, 2014
Open House
CPS and Kodak have announced that they will be conducting a joint Open House. The event will be held Wednesday, November 13, 2013 at the Cambridge, Ontario facilities of Canadian Primoflex Systems Inc.
For more information and to register please visit our Open House page.
August 9, 2013
Award Winner

In 2013, the annual FTA forum awarded Colbert Packaging Gold and "Best of Show" for carton that was convertered on a CP series press.
July 11, 2013